I would say one of the most quoted lines from the Documents of the Second Vatican Council by Catholics (including bishops and lay people bloggers) is that
"the Eucharist is the source and summit of the Christian life"
(Lumen Gentium 11) This quotes teaches us that the Eucharist, which is the body of Christ, must be received by his gathered people, which make up the living body of Christ. The Eucharist is the churchs foundation, it is the source where accomplishment, acceptance, unification and compassionate hearts are formed and fed among its members. The Eucharist, also is the peak of the mountain, the most incredible thing that is truly the summit, of a Christians life. The readings this weekend express the need for our source, and who the source is.
The conclusion of the first book of Kings is dominated with Elijah and his travels. Currently, Elijah is running from his antagonistic counter part Queen Jezebel (who is married to the king, king Ahab) who has threatened to kill him. So Elijah is running and has become exhausted, depressed and angry. Elijah says to the Lord, " It is enough; now, O Lord, take away my life..." But the Lord sends an Angel to attend to him, to feed Elijah and give him water, twice. After the second attempt, the angel has revived Elijah and has helped him continue on his journey.
Again this weekend we hear from the Gospel of John and the Bread of Life discourse given by Jesus. In this large section of the discourse that we are presented with, Jesus acclaims that he is the
"living bread that came down form heaven"
(Jn 6:41) and
" the bread that I give for the life of the world, is my flesh."
(Jn 6: 51) The people that once was giving him praise, and crossing lakes to search for him, begin to evade Jesus because of his complex and bewildering teachings. In this discourse Jesus adds an intriguing point,
" whoever believes has eternal life."
Essentially, Jesus is preaching that to even acknowledge this living bread, one must believe, have faith. This faith will, according to Jesus, give eternal life.
Like Elijah, when times are tough, it seems like the whole world is ending, and we succumb under stress we lose sight of God, and do not realize where he is, or why he led us to this moment. However, all along, God is there. It is God who is always guiding us, and assisting us along our pilgrimage of life. Along the way, when we feel like Elijah and say " It is enough O lord..." God gives us the bread we need. He gives us a source; a place to return to for refreshment and healing. God gives us his Son, the Living Bread, made in completeness in a gathered community of believers ready to worship and receive His Son in the living and true Eucharistic bread.
God is giving us a connection in a place, the church, which is defined by its living and participating community of believers, in which heaven and earth meet and Christ is given has a healing remedy for those sick, burdened and distressed. Christ is distributed among us, the faithful, to refresh us, to heal us, to encourage us, and to give us focus and strength on our pilgrimage. It truly is and becomes even more, when we realise our necessity for it (the Eucharist), Our source and summit. It is truly the ultimate strength and focus to turn back to God and to follow his will. It is in this ultimate, reality clashing event, that we call The Mass, that we receive and are recharged with the desire, grace and healing from God to continue on the path of life.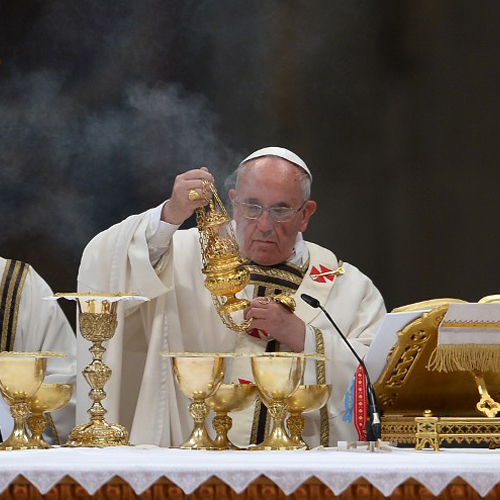 St Paul states, in the Second reading, that through the new sign we are marked with (through baptism) we must change our ways. It is now, in this new faith, in the belief in the living bread, that we called to put away bitterness and wrath, anger and wrangling, slander and all malice. St Paul continues to teach that, through our baptismal faith, we are no called to be imitators of God: to be loving, tender-hearted, forgiving, and kind. This by ourselves is not easy. We need God. We need Gods grace to be able to have to the power to turn from sin, and to stay focused on the new path of life. We gain this grace, through Gods self giving gift of the sacraments. We receive it especially, in our source, the life giving Bread.
We are all on a journey; a pilgrimage of life, finding our way along the long and winding path. Along the way, we can become, like Elijah was, tired, distressed, and angry. But God is always with us, helping us and guiding us back on his path. We must turn to Christ in the Eucharist, for he is our source and summit. However, the Eucharist is celebrated in full with a gathered faith community, who believe that Jesus is the living bread. That have come for this meal, a meal that sustains not our stomachs, but rather our souls. He refreshes us, he heals us, he rescues us.
May we come to our Source with an open heart, willing and open for him to work in us, like he worked in Elijah. May we come to the Lord, gathered in a community of believers, to give him thanks and praise for everything he has done. Has we gather, may we be refreshed in living our new life, a new life that is characterized by kindness, compassionate and forgiving.
Have a Good Sunday!