Last Tuesday I had landed safely in the evening back in Canada after my two week mission trip in El Salvador. It was: a unique, eye opening, culture shocking, life changing experience. From the moment we had left the airport and headed to our hotel, I was immediately shocked by the amount of barbed wire that was on top of every fence, gate, or wall. El Salvador is a high-crime country, and so people set up barbed wire coils, and fences to protect their property. However, something more significant stuck out to me, not right away, but over time, is how important, precious, and open El Salvadorians are about their Catholic faith. On the back of the school busses that they use for public transportation, their are images of Jesus on the cross, or will have bible verses on them. On many walls of building their will be painted bible verses, Blessed Oscar Romero quotes, or a picture of Romero, or a saint. All of the restaurants we went to had pictures of the Last Supper, or of at least one saint. Even the non catholic school we were working at, had pictures of Romero, and most of the students were wearing crosses.
Todays Gospel is very interesting. The first part of the Gospel is the conclusion to last weekends Gospel, but the end of the Gospel is setting up for next weekend and its events. In todays Gospel, Jesus invites his disciples to go away with him, to a deserted place to rest. The disciples had been busy, and were surrounded by great crowds, that they didn't have time to eat. So they head out on a boat to go to this deserted area. I find it a bit ironic, how Jesus and his followers leave for a deserted place, but when they got their, the crowds had beat them there. So it really wasn't that deserted. But even in their fatigue, Jesus had compassion on them had began to teach them.
" ...They were like sheep without a shepherd..."
(Mk 6.34) When Jesus saw this large crowd that had followed him he had compassion. He saw their dedication, and hunger for the truth, and for his teaching. To see them travel to the deserted place on land, and wait for them, Jesus responded to their hunger and began to teach them "many things" (Mk 6.34) Jesus and his disciples had left so that they could eat, however, they ended up filling the spiritual hunger of the people that gathered. Jesus became their shepherd. He took care of them; he attended to their needs (as opposed to the wrongful shepherd as described in the first reading.)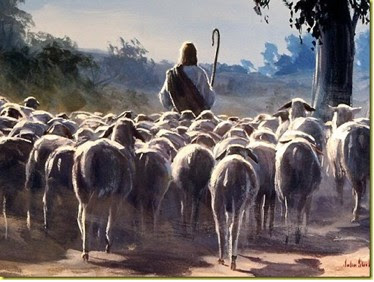 The large crowds that followed Jesus, were people that wanted more. They were fed with the miraculous things that had happened, but it had only made them hungrier. Like these people we can become people without a shepherd. We can become idle in our prayers and faith. We can get caught in the rut of doing the same thing, and praying the same thing every time we pray.( I am not saying that its a total bad thing, but when we pray for different things, we awaken our prayer life, and speak in a different way to Christ, which will make us more attentive in prayer.) We also run the risk, of living our lives without Christ; leaving him on the back burner, and not incorporating him into our lives.
We can often run the risk of becoming self-centred. Which is a growing problem within the country, continent and world. It is an illness that can infect everyone. It is a danger to our selves when we begin to focus on our selves, our own needs, and the doing things that will make us better, while damaging and forgetting the people around us. It is an illness that leaves Christ out of the centre. On the sidelines, waiting to come back into play.
Like the large crowds of people we need to look for Jesus, we need that passion for him. We need the interior acceptance and belief that only he can fill the hunger within us. We need to go searching for Christ living in our lives. We need to allow Christ to be the shepherd of us, his sheep.
Our life and faith is a journey, a journey that is continuously working towards the kingdom of God. On this journey we should be continuously searching for Christ, following him wherever he goes. He is the shepherd, we are the sheep. We need to have total trust in him and allow him to lead. When we allow Christ to be the centre of our lives, then we open up a window that was previously closed. A window that gets rid of the muggy and egocentric air, and brings in fresh, new air that allows us to see the need for justice, compassion and dignity for people in this world.
Turning to Christ is heals us from the illness of being narcissistic in our life. When we search for Christ, like the people did in todays Gospel, we will not be left unfed. His words are fulfilling, and will fill our spiritual hunger. Being a Christian, we must always have a deep desire to be filled with Christ and his teaching. When we loose this desire, then we become selfish and oblivious to the world around us. But Christ helps us see. He helps us see the need of our brother and sister. He helps us to see with the eyes of our heart
.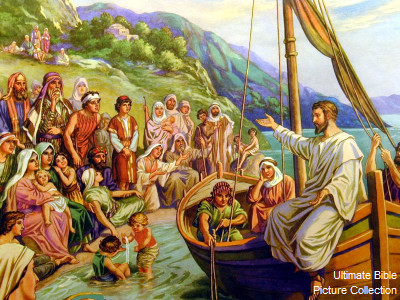 As we gather again for Mass today, may we come and focus again on Christ. May we allow Christ to be at the centre of our lives. May we let the desire to follow, to listen, and to spend time with Christ always grow in us. May we allow the narcissistic characteristics in our lives to change into a altruistic value take over. May we turn to Christ, like the people did in todays Gospel, and always go to him to fill our hunger.
The people of El Salvador are very open and share their faith. They not only preach it, but they share their faith by the way they live. While I was on the trip, our very wise and enthusiastic translator had told us that the "El Salvadorian people don't want more, they want to be better." This line stuck out to me. They have very little, but yet are the most faithfilled, happiest people I know. They live their faith! They put others first, they care for the needs of others, they are generous and will give anything if you ask. They are a people that follow Christ. That are fed by Christ. They are people I want to imitate.
Have a good Sunday!