Exactly two week ago today, we gathered together with palms in our hands and welcomed Christ into the great city of Jerusalem saying, "Hosanna! Blessed is He who comes in the name of the Lord!" Then we gathered on the following Thursday to celebrate the Lords Last Supper, in which he gave himself in the form of bread and wine for us to eat and drink. The very next day, we gathered and shouted again to Christ, however our joyful triumphant cheer was drowned in the sea of our hate filled roar, "Crucify Him." This roar crucified and killed Jesus. His death could have been the end. Everything could have stopped their. But it didn't. Jesus rose from the dead, saving us from our own sin.
Today ends the Octave of Easter. For the last time today, the prayers spoken at Mass will be spoken in the language that Christ is risen today. For the next five weeks we will celebrate Easter and conclude it with celebration of Pentecost. During this time, we remember the resurrection of Christ and his redemptive work that he accomplished by dying and rising. The Easter season is also a time for us to increase our faith, and growing a closer relationship with Jesus.
The Gospel presented to us today is probably one of the best known by its name, " Doubting Thomas." The Gospel focuses of Jesus' return to his disciples on the day of his resurrection and then eight days later on the encounter between Jesus and Thomas. It is with his encounter with Jesus that gives Thomas a change of heart. Through seeing the risen Christ, Thomas was given a new and refreshed faith. A big enough refresher to allow him to proclaim, "My Lord and My God." Jesus came and met Thomas in the locked room, in his disbelief. During Jesus' entire earthly ministry he met people where they were in their faith and drew them closer to himself.
Yesterday I was teaching the confirmation Class at my parish and I came across an interesting question, "where do we encounter Christ?" Of course all the kids gave the answers with things in the church. So then I said, " Okay, but how about outside of church" None of the kids were able to answer this question.
In todays second reading, St John tells us that through faith in Jesus Christ we are able to love others, love God, and obey his commandments.
It is
faith
that "is the victory that conquers the world."
1
It is through faith that we are able to experience Christ in our life and be given a solid foundation to be a witness to his Gospel.
Like Thomas, all the apostles gained a solid faith through their encounter with resurrected Christ. the apostles were gathered in fear, frightened that they might also be killed. But Jesus comes among them and says, " Peace be with you." With these four words Jesus calms his disciples and calls them to a life of peace. He then gives the apostles the ability to forgive sins because forgiveness is at the heart of peace. Forgiveness builds bridges and connects people together again. With his encounter and commissioning of the apostles, Jesus strengthens them to live the life as described in the first reading today.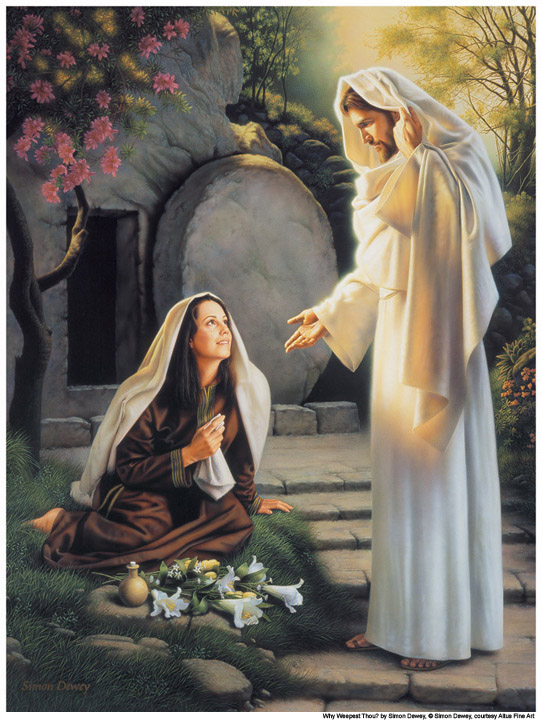 Jesus equips his apostles, and all believers to live in communion. No one called anything his own, and nobody went hungry. Nobody owned anything, and everyone donated anything. This was to provide for everyone and to live as true disciples of Christ. Not only did the apostles commit themselves to an open lifestyle, they also spent a lot of time sharing their testimony about the resurrected Christ. It was for that reason that Jesus appeared to them; to give his apostles solid proof that he truly is risen.
Faith truly conquers the world. Faith is at the heart of our entire life. Jesus wants us to solidify our faith in him and so after rising from the dead he appears to us. He doesn't appear in flesh and blood (yet) but he makes himself known. Through quiet prayer and contemplation Christ meets us where we are at. He will meet us there, and make himself known. He also makes himself known through other people. He uses other people (be it a friend, stranger, priest, or family) to reveal himself to us. Whichever way he does, God meets us where we are. It is in this encounter that WE are given a solid foundation to become a witness of the resurrection.
So on this Second Sunday of Easter, may we come, when we see Christ, to make a statement of belief like St Thomas. May we come to truly live our faith, always searching ways in which we can love others, God and to obey his commandments. May we come an answer Christs call to Peace in our life, and to truly encounter Christ so that, like the apostles, we to might be a witness of the resurrection.