This is the last week of lent before Holy week and the Pascal Triduum. The third and final scrutiny we hear from today is the beautiful resurrection of Lazarus from the dead. Throughout Lent, we have heard in these scrutinies Jesus is educating his disciples of a new nature of whom he is. Todays gospel is no different. Jesus boldly states, " I am the resurrection and the life."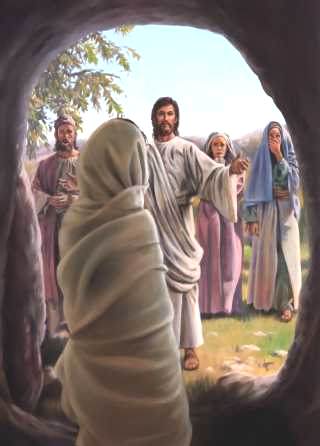 When Martha first hears that Jesus has arrived she runs to greet him and gets mad at him. "Lord if only you had been here..." Martha had just lost her brother, and begins to blame Jesus for his death, and for the pain that she is experiencing. At times, we to can blame the Lord. When things don't go the way we want them to, or life becomes really stressful and hard begin to question the Lord and deeply contemplate why the Lord would put us through this.
The key points isn't the actual healing, but rather, the conversion and teaching that happens to different people. When we hear that a friend has died, do we wait four days before visiting the friend? Unlikely. We want to go right away. But Jesus waits. His reason is, " For your sake I am glad I was not there, so that you may believe. But let us go to him." It was for the teaching of his disciples that he waited. He was about to preform a miracle that has never been done and through this miracle Jesus would show his divinity. He wanted his disciples to have faith, so he wanted to show them a great sign of faith, which would happen to him shortly.
The other person is Martha. Jesus presents to her this question, " Do you believe?" and through a quick response Martha says "Yes Lord, I believe." This response is a response that should be practised in our lives. Like Martha, we experience "deaths" in our lives, but yet with faith everything is made better. With faith, we can become free from anxiety and free ourselves from the chains of doubt and hatred. With faith, we have assurance of a resurrection after death. In faith, Martha begins to clam down, and realize the greatness of the Lord.
When Jesus asks for the stone to be rolled away, Martha again interrupts Jesus with doubt. She is on the journey of faith. She went from doubt, to belief, to doubt. So it can be in life- in everything we do. We are always on a journey; a journey of re-aligning our selves with Christ. A journey that allows us to fully believe in Christ. A Journey that lasts a life time. Like Abraham, God is always testing our fidelity to him. We must fully give our selves to the life and to the journey that Christ has for us, even if we cannot see the end.
As we celebrate the fifth Sunday of Lent, may we come and answer for our selves, " Do you believe?" At the end of lent we celebrate the saving act of Christ and it takes our whole being, rooted in faith to truly appreciate and adore the Christ who is on the wood of the Cross. It is faith that our eyes will be opened when we see the tomb empty, and it is faith that will raise us from the dead with Christ. As lent draws closer and closer to a close may we come and reflect on our faith and be comforted by the words of Christ, " I am the resurrection and the life. "