Today people celebrate many different things: A brand new year, world day of Peace,. Above all, however, it is a the day dedicated to Mary, Mother of the world. It is a day, where we, the Christian faithful, give honour to Mary.
Todays Gospel is the same Gospel that we heard not to long ago on Christmas at "Mass at dawn" It is the proclamation of the shepherds praise and joy of having seen great things. However, something more important is what Mary did that we are told of, " ...Mary treasured all these words and pondered them in her heart" She did not let these things leave her, rather she kept them and meditated on them.
I believe we have lost the importance of pondering things, looking back at past events. So often God puts events into our lives that are meant to help us grow and we don't take them time to appreciate them and thank him for it. Mary was a poor women in her teens who was chosen to be the Mother of God. She had no clue what it entitled, yet she trusted God and took on the mission he had planned. As the events progressed we are told that Mary stopped and thought about them. By doing this, Mary was beginning to grow into her role, and began to understand exactly what it means to be the Mother of God.
I have mentioned it in posts before
, but I absoloutly admire the young Karol Wojtyła, later Pope John Paul the second, who at the age of nine, said to the blessed virgin, " You have to be my Mother now" and he entrusted his life to her. Always making the time to be with her, and it is obvious that he had a strong devotion to her.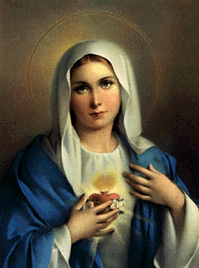 We to are called to turn to the Blessed Virgin, and ask for her intercession. I once was told to always ask things through Mary's intercession, because no good son turns down his Mothers request. Mary is the perfect model for Christians everywhere. Her willingness to accept Gods will, her example of pondering Christs call, and her fulfilment of Gods plan in her life. She is a model for all to turn to for help to live the Christian life.
So today, May we come to accept Mary as our Mother. To turn to her for help to follow Christ, for guidance along tough roads, and for a more full faith. May we come to be able to call Mary our Mother with our entire heart. May we, the Christian faithful, come and ponder all the events that God has called us to live.
I want to wish you all a very Happy New Year! As we celebrate the feast day of Mary, we ask that Mary will guide us, and be our Mother this year.