Pope Francis had a packed schedule for his 5 day trip in Korea recently. I want to show you some of these events through 11 pictures which I have found, that really spoke to me. He really showed love and compassion, by taking selfies, hugging former forced sex slaves, and praying for people. Look at it below!
1) On the plane
Pope Francis, on his way to Korea, asked for a moment of silence for the Italian Journalist who was killed in Gaza
2)
The Car He used
"...the pope left the airport in a compact black Kia that
many South Koreans would consider too humble
a vehicle for a globally powerful figure."
Source
4) Say Cheese, Your Holiness!

Pope Francis reaction to a youth who wants to take a selfie with him.
Something about this photo just makes me smile :)
6) I'm Jealous!
Pope Francis eating lunch in Korea at a minor seminary
7) Religious Leaders- Pope Francis met with Korean Religious leaders
8) Baptism -
Pope Francis Baptises Lee Hojin, the father of a victim in the April Ferry accident
9) Crozier -
While in Korea, Pope Francis used the "bent Cross" Crozier. This crozier was instituted by Pope Paul the 6th and was used by both Pope John Paul the First and Second. Was hardly used by Pope Emeritus Benedict the 16th and I am happy to see Pope Francis Using it. I see a beautiful, signified and unique beauty to it.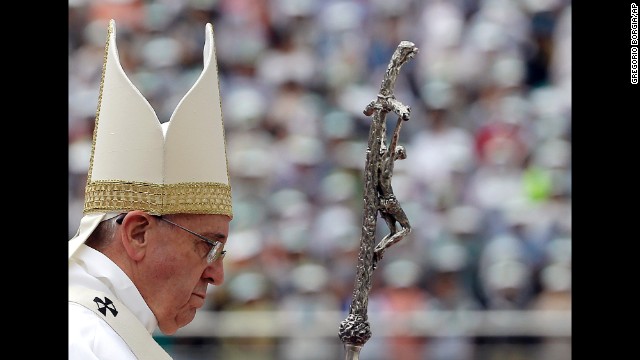 10) Compassionate Father-

Pope Francis greets a women who was a former sex slave.
11) Hugging-
Before getting on the plane Pope Francis Hugged his translator