Regardless if parishes have elect to be baptized at Easter Today starts the beautiful readings that go along with the rite of the Scrutiny (examination period.) Throughout our life we continuously undergo conversion from sin and forgiveness in Christ. Lent is a time that we can begin to examine our lives and begin to see our faults and sins. Lent is the time to reshape our lives into a better person, (it works better than the failing New year's resolution!) And so we are given for the next three weekends the readings which will help us examine our life, to be able to see Jesus better at Easter.

Jesus, in today's Gospel, has a conversation with this woman from Samira at the well of Jacob. Each of them has seven responses, which was the perfect number for the woman to be converted. Jesus was able to change the ignorance of the woman into an enlightened and equipped woman who is ready to preach to people about God. He was able to break the segregation of the Samaritans and Jews and introduce a new form of dialogue as an example for his disciples

Later on, when the disciples have come back and offered Jesus food, Jesus rejects and said he has had food no knows about. The disciples, in a sense, failed at what Jesus really commissioned them to do. Jesus sent them to get food. Jesus wasn't talking about literal edible food. He was talking about doing the will of God. But for the new Jewish followers, they would want to be quick, get what they need and leave. Jesus says it perfectly, " I sent you to reap." He sent them to tell the Good news-to evangelize. He showed them it doesn't just stop with Jews, the good news must extend into Samaria also. Jesus was trying to transform his apostles closed minds into an open gate of God's grace.

Through talking and helping the women at the will Jesus gives them this example. He helps a Samaritan women-totally against the norm. Jesus wanted to break the divisions and hatred within the world. He ate with sinners, he spoke with Samaritans, he worked on the Sabbath. God never takes a break, and is not closed minded to anyone.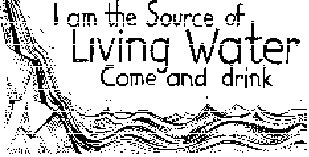 Who in our time do we close the door. Whom do we label as the Samaritan? Whom do we close Gods grace to? For all of Gods children, all human beings, are deserving of Gods abundant grace.
On our journey of Lent we are called to preach the Gospel at all times. We are commissioned to get food, to buy food. The food isn't edible, but the food that we get from doing the will of God.
May we come to converse with God through prayer and that through prayer we may be strengthened to buy food in the city. For Jesus sent us to reap-to preach and to proclaim the Good news. During lent, we are challenged through our actions to preach the Gospel- to preach the word of God to everyone, even to the Samaritans in our lives. When we are strengthened by God, then we become the springs of living water.