All my life I have been striving to become a better person. I have been striving to help others in as many ways as I can. I grow, every time something happens good or bad. The challenging part is looking at the Good in every situation. I was at a week long retreat this past week, and met some incredible people. This one girl I had met, and lost her voice. She told me this, "
having a weak voice helps me to listen more effectively, rather than speaking before thinking about what i want to say"
Great isn't it? It is in meeting new people I am able to grow-that my striving can get filled.
Jesus in today's Gospel is telling us to
Strive to enter through the narrow gate.
Difficult to say the least filled with faith testing experience. Just like my strive to become a better person; we must strive for the narrow gate. Strive for the harder gate. Why? Well the writer of the Hebrews offers a plausible answer,
'Whom the Lord Loves he Disciplines'
The narrowness of the gate is the discipline the Lord offers.
We came to earth to prove to the heavenly Lord that we are worth of his great kingdom. Testing our Faith, and seeing how loyal we are. The Narrow gate is the test-test of life. During this life we are called to
pick up our cross
and follow Jesus. We are given two options: To pick up the cross and stay focused or let go.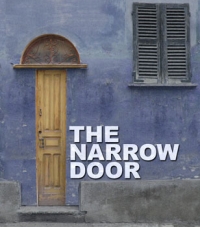 We must have the desirable strive to reach that crucial door at the end of the Narrow Gate. It will be hard like most things: But that doesn't meant to give up or to lose Faith. For it is simply the biggest test of your life ( No pressure Right?) Has the righter of Hebrews puts it, "
all discipline seems a cause not for joy but for pain,yet later it brings the peaceful fruit of righteousness"
What is the Peaceful Fruit? The Peaceful fruit is the kingdom of Heaven. We will (if we go through the narrow road) enjoy that fruit-the fruit of God.
May we not blame God for the Trials we go through, rather, thank him, for it is the test of Faith which goes on all life. Let us take a new perspective of what is at first glance bad. It's being able to look at having a bad voice and making it something great. It's being able to keep the Faith in Christ even in hard times (Which is hard in it's self) It is being able to grow as a person after each trail.
May God Bless you, and help you among on the road to the narrow door. May God Protect you, and lead you every day and every where.
How are you growing?
What will you do with a weak voice?
21 Sunday of Ordinary Time