Isn't it nice, having enough food to eat. Knowing that there is food for breakfast, Lunch and Dinner? It's always better to be filled with energy, and being able to do so much with a full stomach. Food, as we all know is an essential to be healthy, and be happy.
I would believe that shopping at a store would be the main supply of food for so many. (Sadly, the prices keep going up) but during the spring and summer this is the exact opposite of my grandparents. Ever since they moved into the house they live in now (many years ago) they have planted a huge garden in there backyard. Some years it supplies wonderfully- Enough to make a great dinner. And other years not so great- weather is dry or even to much rain.
This weekend we celebrate the wonderful feast of Corpus Christi. Yesterday, I had gone to a diocesan gathering Mass to serve. During the bishops homily I learned something new. Within the three years of the church-A, B, C- all have a different theme behind them within scripture. Year A's readings, focuses on the Body of Christ, Year B's readings focuses is The Blood of Christ and finally year C focuses on a meal. No specific, but together a meal.
And this is certainly clear within scripture today. In the second reading, Paul sharing the events of the last supper. How Jesus took the bread, blessed it, broke it, and shared it. Then takes the cup, blesses it, and shares it. The taking, blessing, breaking and sharing is common for the Jews. It is something they did at Passover to share the meal. (I also learned that from the bishop to!) Then finally, in the Gospel. When Jesus feeds 5000 men. The society back then was male dominate, so the bible says men. It is because men ate at a different table than women or children did. Then once male children became a man, they joined the other men. There were certainly women to- followers of Jesus and most likely in the crowd.
Let us, today, tomorrow, and forever, be part of this wonderful meal that Jesus supplies. There will never be anything we don't like. For Jesus supplies us with himself- the food for our soul. We are called to share in the meal where we are fed-Our soul, Faith, and Body.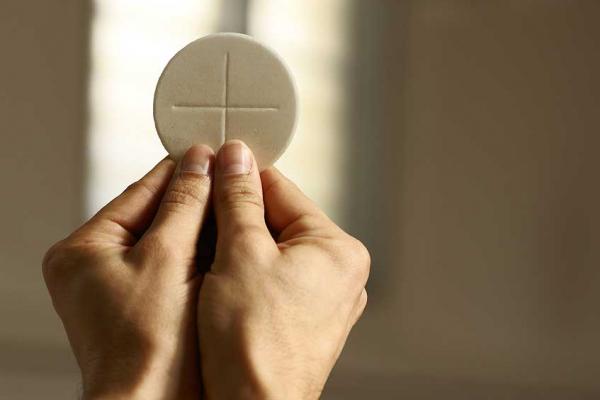 Jesus told us that we are, "not of this world." Which is true because we have come to earth to prove that we are worthy of the kingdom of heaven. For that reason, Jesus supplies food for our souls. The "Bread of Life, and the Wine of Salvation.
Our bodies and our selves our both fed. One from a garden or store and another from the Body and Blood of Christ. We are called to join in a meal from the freshly grown crops to the wonderful gift of the Body and Blood of Christ.